The Somfy Protect IntelliTAG anti intrusion sensor provided by Smart Security in Lebanon is a great window and door sensor.
Moreover, it is a sensor that alerts you of a break-in attempt BEFORE an intruder gets inside.
Additionally, the IntelliTAG uses multiple sensors and an advanced algorithm to analyze vibration patterns. Thus, it detects the first sign of a break-in BEFORE a door or window is opened.
Furthermore, the IntelliTAG can tell the difference between normal events and potential threats. Likewise, a knock at the door, a ball bouncing will no longer cause a false alarm.
On the other hand, drilling or hammering will cause the alarm to go off.
Subsequently, Within nanoseconds of the break-in attempt, IntelliTAG triggers the siren and sends an alert to your smartphone.
Besides, universal adaptability for sliding or swinging doors or windows, one-step adhesive installation, and tamper protection.
Features:
Fast and easy installation.
Sets up in minutes.
Radio communication.
Tamper protection.
Power supply
Batteries: 1 x AA battery with 12-month life (under normal use conditions)
You will be notified automatically when the power supply is low
Compatibility:
Somfy One
Somfy Home Alarm
The IntelliTAG™ is also available in an easy and extra affordable 5-pack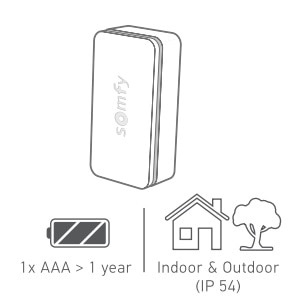 Specification of the Somfy Protect IntelliTAG anti intrusion sensor
Wireless operating distance 200m (open air)
1 AAA battery (1 year battery life)
Tamper protection
Indoor and outdoor use (IP54)
Dimensions: 60 x 28 x 13,5 mm
Weight: 28g
Operating temperature: 0-45 °C
Warranty: 5 years
Thus, getting the Somfy Protect IntelliTAG anti intrusion sensor is a great investment for your Smart home to make all your doors and windows safer. Even more, imagine having peace of mind that you are protected from intruders during the night.
So, call us today at Smart Security and let our professional operators help you make the best choice for your smart home in Lebanon.
Help Guides
Somfy IntelliTag
Instruction Manual